Valentine's Day Tasting Menu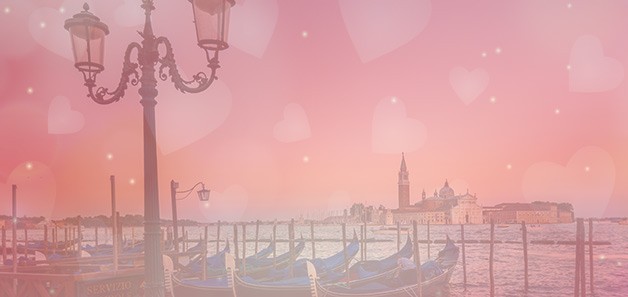 A Romantic evening in Venice at The Little Geranium
Venice unquestionably is one of the most romantic cities in the world.  Known as the city of masks, the city of bridges and the floating city.  In 2016 it was voted the most beautiful city in the world.So it is a pleasure for me to re produce some fine Italian and Venetian food and cook it expertly at The Little Geranium in La Cala this Valentine's Day.
The Valentine's menu starts off with a glass of Italian Prosecco from one of the best producers in Italy.  As an amuse I have re-created the classic Caponata which is a vegetarian mix of tomatoes and aubergine from the region flavoured with garlic and basil. I have added in some fresh slow cooked peppers and some toasted pine kernels and I am serving this warm salad artistically with basil oil and crispy fried aubergine to give it a modern twist. It looks like a work of art on the plate and tastes heavenly, that's what excites me about food.
To follow I have re-created the classic dish of Veal shin cooked slowly Osso Bucco.  I have taken the slow cooked veal off the bone once it is cooked for 5 hours in the oven after souviding it first for 4 hours!  I am using all the juices but eliminating the fat and I have pressed it into a terrine lined with Parma ham from Modena Italy and I am serving it as a terrine with homemade toasted bread made from Gremolata. Gremolata is a mix of parsley, garlic and lemon and is classically served with Osso Bucco.  I am taking the contents of Gremolata and making a bread from these fantastic flavours.
The third dish on  the Valentine's Venetian tasting menu is a classic seafood dish called Marinara which originates from Naples. It is made from tomatoes and garlic, olives, red wine and herbs principally. I have taken all these rustic flavours and cooked them together for hours, slowly. I then blend the sauce to a fine tomato sauce but it is packed full of the original flavours. The fish I am using are hand dived scallops and large prawns. Once again I make a plate of scallops and prawns with the fine but flavorsome sauce look like a piece of art on a beautiful plate. I am serving it with truffle pasta that has been crispy fried and serving it like a fishing net over the fish so that this classic dish has a modern new lease of life and one that adds texture (the crispness of the pasta) to what is otherwise quite a wet pasta dish. We have trialed it and it is amazing.
The main course is simpler than the other courses and is a choice of fish or meat. I have chosen Italian beef from the north Eastern part of Italy near San Daniele.  The meat from this region is free range and I am buying the fillets of beef for the tender leanness and then I am going to seal the whole fillets with Italian herbs like rosemary, oregano and roast it rare. I will slice it to order and serve it with crispy Polenta (from Northern Italy) and a beef sauce made from Chianti wine. The fish course is sea bass which I am baking with sea salt in the oven and serving with a nero spaghetti which Venice is famous for, its pasta and its rice.
There was no country called Italy in the middle ages but by the late 1500´s the Italian kitchen was being recognized as one of the best and Zabaglione which is a warm egg custard cooked over a bain marie was invented around about this time. I love the lightness and smoothness of this dessert Steven says, and so I am re-creating it with Italian cherries and steeping it in a dessert wine called Marsala which originates from Sicily. It is a fortified wine similar in kind to a Port or Madeira and I am soaking the cherries in this wine first and then beating Italian egg yolks with sugar and warm marsala until smooth and creamy and serving it with a homemade Italian biscuit. I also have a range of Italian cheeses on offer including Gorgonzola, Taleggio and a cheese from the Venoto (Venice) region called Monte Veronese.
Book an exclusive table at The Little Geranium and allow me to make your Valentine's evening one that you will never want to forget! The Valentine's menu will be available 13th, 14th and 15th February. Hurry and make a booking fast to experience this amazing food with live romantic music in the background.